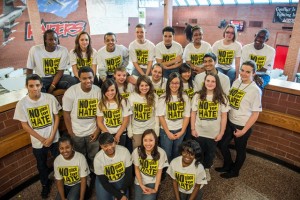 The No Place for Hate® Initiative is offered to public, private, parochial, and charter schools.  The flexibility of the initiative's framework makes it a great option for Elementary, K-8, Middle and High Schools alike. The 2015-2016 school year marks the 4th year for No Place for Hate with ADL Arizona and we are proudly supporting 24 school partners!
No Place for Hate is designed to rally the entire school around the goal of creating a welcoming community committed to stopping all forms of bias and bullying. It provides a unique framework to incorporate new and existing programs with one consistent message. It can help your school foster a culture of respect and create a safe, bully-free learning environment for students at all grade levels.  The Initiative celebrates that diversity and offers a unique opportunity to prepare young people to succeed in a rapidly changing world.
Although, the registration deadline for 2015-16 has passed ADL is currently working with interested schools to prepare for 2016-17 implementation. Registration for 2016-17 will open in April 2016 and will be limited to a maximum of 50 No Place for Hate partners.  We hope you will be among them!
Annual Designation Process:  Step-by-Step Overview
To learn more, please call ADL Arizona Education Director, Melia Dunn at 602-274-1545
or via email
mdunn@adl.org.
PLUS – Check  out our Anti-bias or Bullying/Cyberbullying workshops as excellent skill-building options for your No Place for Hate® Student Coalitions.
Since 2001 when the Initiative launched in Boston, No Place for Hate® has been embraced by more than 1500 schools across the country.  Participants are noticing a real impact on their school climate. The schools that benefit most from this program make it visible and incorporate its message of respect into the fabric of daily school life and school culture. No Place for Hate® becomes, as one teacher describes, "The way we do things here."